Turtle Creek Farm is home to a small herd of New Forest Ponies. The New Forest Pony is a breed that originated in 1016 and is one of the nine recognized Mountain and Moorland or Native pony breeds of the British Isles. It is valued for its hardiness, movement, talent and friendly personality.
Our four ponies are Wishing Well Barker, Wishing Well Bella, Wishing Well DeLovely, and Five Oaks Keeper. If you are ever in Nebraska and want to meet a New Forest Pony personally, please give us a call or drop us an email.
Jenny Christensen is also secretary / treasurer for the New Forest Pony Society of North America. The society is a club of enthusiasts who love and promote the New Forest Pony. The Society offers the only registry of New Forest Ponies in North America recognized by the mother studbook of the New Forest Pony Breeding & Cattle Society in England. There is also a quarterly newsletter and year-end awards program. Visit the Web site for membership information at www.newforestponysocietyna.org.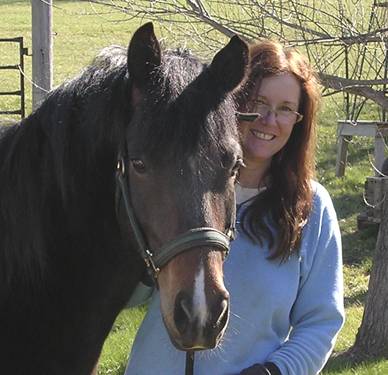 Jenny & Wishing Well Barker